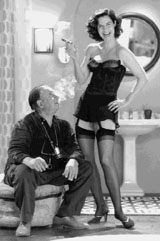 S
Tinto Brass is the greatest Italian director of all time but of course the neo lib wankers don't like him cos he deals in the sexual aspects of an age, but they forget the good sets he creates and the brilliant evocation of past time. Tinto uses WW2 a lot.
Salon Kitty was a Berlin brothel used by the SD for espionage purposes before and during World War II .
The estate of Heydrich and a 54mm model of him by andrea
In the 1930's Berlin, Salon Kitty was a high-class brothel in 11 Giesebrechtstrasse. Its usual clientele included German dignitaries and foreign diplomats. Its owner and madame was Kitty Schmidt.
kitty on the left
The idea to use Salon Kitty for espionage purposes came from Reinhard Heydrich but SD chief Walter Schellenberg did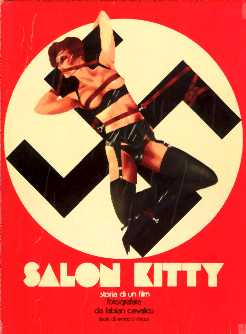 most of the woAlthough brothels were officially outlawed by the Third Reich, the elite Nazi SS security police had been authorized by Himmler before the war to engage prostitutes in intelligence gathering.
The infamous Salon Kitty in Berlin's Giebachstrasse was the brainchild of the Deputy Reichsfuhrer SS, Reinhard Heydrich. The high-class brothel was set up to increase surveillance of foreign diplomats and visitors as well as to gather dossiers on the sexual indiscretions of Nazi party big-wigs and government guests.
S.S Britain's
. Instead of infiltrating the brothel, Schellenberg(below)decided to take it over.
Storyline o0f Tintio's film
Kitty runs a brothel in Nazi Germany where the soldiers come to "relax". Recording devices have been installed in each
room by a power hungry army official who plans to use the information to blackmail Hitler and gain power himself. A girl named Margherita discovers the little ploy and with Kitty's help plans to take on the dangerous task of exposing the conspiracy. Written by Josh Pasnak .
The films where nazis appear based on real ev ents are rare but the one above was inspired by the assassination of heydrich
Senso ' 45 is the last opera by Tinto Brass, in which the Cinémathèque Française in Paris devoted a retrospective from 9 to 13 January 2002 entitled Eloge de la chair.
In a real and metaphorical sketch from the end of the world (Venice in rain and fog) Livia Mazzoni (Anna Galiena), gorgeous wife of a poppy of a man (Antonio Salines), meets
lover Helmut Schultz (Gabriel Garko), a SS brute who is beautiful and damned and she starts experiencing a glowing love story .
Livia recalls milestones of her sexual history as her sexual passion for Helmet grows:There is a whirlwind of perdition in Venice, beautiful people and ones with no morals in Venice in the final months of the war, All is shown,between traffickers, official sluts, high rollers, hierarchs, sharks and adventurers of all kinds.Above all
Tinto shows that unwritten history of the war its sexual depravity in a world gone mad.
Although inspired by a same tale of Camillo Boito, SENSO ' 45 is the remake of Visconti's 1850 ambientated film, but the transposition of the same story to a more realistic(as regards the sex) and passionate environment of a time when people were ready to sell thyemselves cheap.Tinto manages to make every film
aa film that only he could make as Basquits friend said "If you wanna make your shit the best ,its gotta be known as your shit"