Above Hill reb in my collection

Fort Wagner (also called Battery Wagner) was a beachhead fortification on Morris Island, South Carolina, that covered the southern approach to Charleston harbor. It was the site of two American Civil War battles in the campaign known as Operations Against the Defenses of Charleston in 1863, and is considered one of the toughest beachhead defenses constructed by theConfederate States Army.

Named for deceased Lt. Col. Thomas M. Wagner, Fort Wagner measured 250 by 100 yards (91 m), and spanned an area between the Atlantic on the east and an impassable swamp on the west. Its walls, composed of sand and earth, rose 30 feet (9.1 m) above the level beach and were supported by palmetto logs and sandbags. The fort's arsenal included fourteen cannons, the largest a 10-inch (250 mm) Columbiad that fired a 128-pound shell. A large structure capable of sheltering nearly 1,000 of the fort's 1,700-man garrison provided substantial protection against naval shelling. The fort's land face was protected by a water-filledtrench, 10 feet (3.0 m) wide and 5 feet (1.5 m) deep,
surrounded by buried land mines and sharpened palmetto stakes.
The First Battle of Fort Wagner was fought on July 10 and 11, 1863, on Morris Island in Charleston harbor during theAmerican Civil War. An attempt by the Union Army to capture Fort Wagner was repulsed.
The more famous Second Battle of Fort Wagner, which involved an assault by the 54th Massachusetts, would be fought on July 18.
In early June 1863,
Union Brig. Gen. Quincy A. Gillmore replaced Maj. Gen. David Hunter as commander of the Department of the South. Gillmore, an Army engineer, had successfully captured Fort Pulaski in April 1862.
He began preparations for capturing Morris Island and parts of James Island, which dominated the southern approaches to Charleston Harbor. If Union artillery could be placed in those locations, they could assist in the bombardment of Fort Sumter
, whose guns prevented the U.S. Navy from entering the harbor.
On July 10, Union artillery on Folly Island (which had been occupied in April 1863) and naval gunfire from Rear Admiral John A. Dahlgren's four ironclad warships bombarded the Confederate defenses protecting the southern end of Morris Island.
This provided cover for the landing of Brig. Gen. George C. Strong's brigade, which crossed Lighthouse Inlet and landed at the southern tip of the island. Strong's troops advanced, capturing several batteries, moving about three miles to within range of Fort Wagner. Also known as Battery Wagner, it was a heavily gunned redoubt that covered nearly the entire width of the northern end of Morris Island, facing Sumter. Strong's report described the advance:
The two columns now moved forward, under a lively discharge of shell, grape, and canister, converging toward the works nearest the southern extremity of the island, and thence along its commanding ridge and eastern coast, capturing successively the eight batteries,




of one heavy gun each, occupying the commanding points of that ridge, besides two batteries, mounting, together, three 10-inch seacoast mortars.
During the Summer of 1864 both Federal and Confederate heavy artillery mortar shells flew back and forth over Charleston Harbor enroute to their intended targets. Even the city, populated by civilians, fell victim to this death from the sky.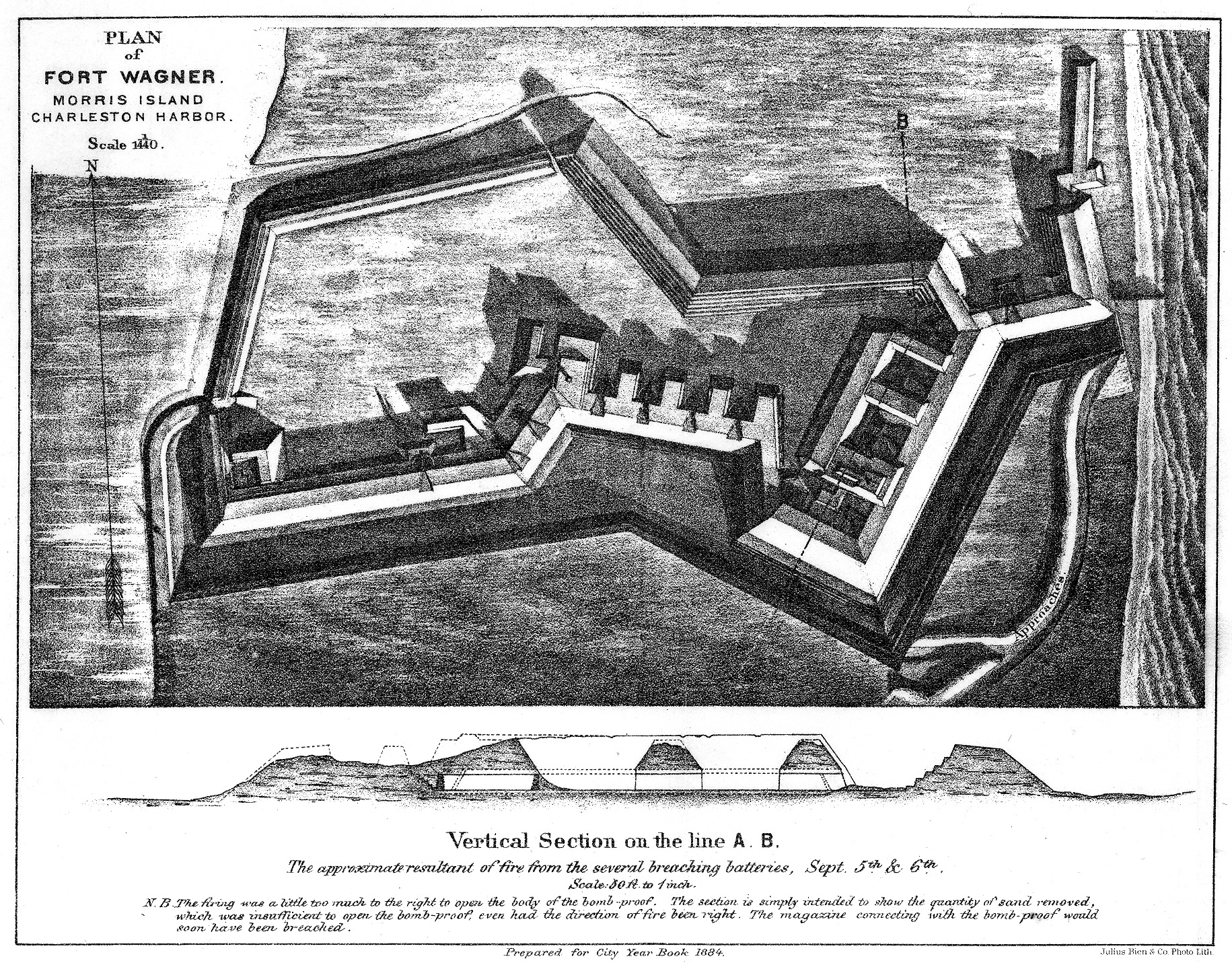 In the midst of this tumult an unfortunate group of Confederate prisoners were living in a stockade built in the path of those bombs, their Morris Island prison pen had been deliberately placed in harm's way. In essence, these beleaguered confederate prisoners, baking in the sun, were being used as human shields. It was a sad commentary on how nasty the Civil War had become.
On July 11, Strong's brigade attacked at dawn, advancing through a thick fog, attempting to seize Fort Wagner. Although the men of the 7th Connecticut Infantry overran a line of rifle pits, they were repulsed by the 1,770-man force under Confederate Col. Robert F. Graham. Heavy artillery fire from Fort Wagner prevented other units from joining the attack.
Knowingly exposing helpless prisoners to artillery fire seems unconscionable.
War, however, has a way of fostering inhumane behavior.





Gen. Q. A. Gillmore

This inhuman situation had its start the previous summer. On August 21, 1863, Maj. Gen. Quincy A. Gillmore, the Federal commander in the Charleston area at the time, had sent a message to General P.G.T. Beauregard, informing him of the Union army's intention to fire into Charleston because he considered it a military target. He informed the General Beauregard that the shelling would start sometime after midnight, August 22.

Beauregard protested, stating that he did not have adequate time to evacuate the city of its noncombatants. Nevertheless, the next morning, Federal mortars sent their deadly projectiles into both the residential and business areas of downtown Charleston.