Barrack Obama played out the Lincoln myth once aghain in a holier than thou discourse to the American public, I like Obama as a personality but like most Americans and their presidents he knows little about American history. Characters and players of history often get big time hero worship for very little , some are downright useless and even worse bragging donkeys, some are assassins.
One is Lincoln and another Pope(March 16, 1822 – September 23, 1892) . (We may also consider Madre Teresa , don't believe me just check it out.)
was a career United States Army officer and Union general in the American Civil War. He had a brief but successful career in the Western Theater, but he is best known for his defeat at the Second Battle of Bull Run (Second Manassas) in the East Above Andrea
.

Pope's reputation suffered a serious blow in 1879 when a Board of Inquiry led by Maj. Gen. John Schofield

concluded that Fitz John Porter had been unfairly convicted and that it was Pope himself who bore most of the responsibility for the loss at the Second Battle of Bull Run. The report characterized Pope as being reckless and dangerously uninformed about the events on the battle, and credited Porter's perceived disobedience with saving the army from complete ruin.
The Dakota War of 1862, was an armed conflict between the United States and several bands of the eastern Sioux (real Americans, lets use this term instead of Indians). It began on August 17, 1862, along the Minnesota River in southwest Minnesota. It ended with a mass execution of 38 Dakota men on December 26, 1862, in Mankato, Minnesota.Lincoln went along with
the commonly held view that the U.S. government should disenfranchise Indians of their land because they were barbarians who were getting in the way of progress This was also his view on Southerners who were to be if not exterminated then to live the life of absolutely subdued subjects, Lincoln laid the route for what is now the total disentegration of the South as regards community, education and economic life.

It came as a very rude shock when Lincoln, absorbed in Confederate GeneralRobert E. Lee's bold invasion of Maryland, learned that there was an Indian uprising in Minnesota that eventually took the lives of between 400 and 800 settlers, the largest massacre of whites in the bloody history of clashes between whites and Native Americans, and the hanging of 38 Indians, the largest mass execution in American history.
Throughout the late 1850s, treaty violations by the United States and late or unfair annuity payments by Indian agents caused increasing hunger and hardship among the Dakota. Traders with the Dakota previously had demanded that the government give the annuity payments directly to them (introducing the possibility of unfair dealing between the agents and the traders to the exclusion of the Dakota).
In mid-1862 the Dakota demanded the annuities directly from their agent, Thomas J. Galbraith. The traders refused to provide any more supplies on credit under those conditions, and negotiations reached an impasse.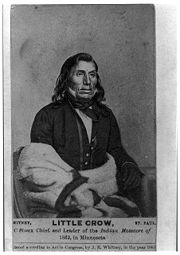 On August 17, 1862, one young Dakota with a hunting party of three others killed five settlers while on a hunting expedition. That night a council of Dakota decided to attack settlements throughout the Minnesota River valley to try to drive whites out of the area.
There has never been an official report on the number of settlers killed, although as many as over 800 settlers have been cited and is not out of line. Further consideration is given to maybe just as many settlers being taken captive as slaves, if not tortured to death as was customary.
Text of Order to General Sibley, St. Paul Minnesota
Over the next several months, continued battles between the Dakota against settlers and later, the United States Army, ended with the surrender of most of the Dakota bands.
[3]
By late December 1862, soldiers had taken captive more than a thousand Dakota, who were interned in jails in Minnesota. After trials and sentencing, 38 Dakota were hanged on December 26, 1862, in the largest one-day execution in American history. In April 1863 the rest of the Dakota were expelled from Minnesota toNebraska and South Dakota. The United States Congress abolished their reservations.Below is Lincolns order (below Gentile)

Ordered that of the Indians and Half-breeds sentenced to be hanged by the military commission, composed of Colonel Crooks, Lt. Colonel Marshall, Captain Grant, Captain Bailey, and Lieutenant Olin, and lately sitting in Minnesota, you cause to be executed on Friday the nineteenth day of December, instant, the following names, to wit [...39 names listed by case number of record].

The other condemned prisoners you will hold subject to further orders, taking care that they neither escape, nor are subjected to any unlawful violence.

Abraham Lincoln, President of the United States.
Pope was a graduate of the United States Military Academy in 1842. He served in the Mexican-American War and had numerous assignments as a topographical engineer and surveyor in Florida, New Mexico, and Minnesota. He spent much of the last decade before the Civil War surveying possible southern routes for the proposed First Transcontinental Railroad. He was an early appointee as a Union brigadier general of volunteers and served initially under Maj. Gen. John C. Frémont, with whom he had a stormy relationship. He achieved initial success against Brig. Gen. Sterling Price in Missouri and then led a successful campaign that captured Island No. 10 on the Mississippi River.
Pope's success in the West inspired the Lincoln administration to bring him to the troubled Eastern Theater to lead the newly formed Army of Virginia. He initially alienated many of his officers and men by publicly denigrating their record in comparison to his Western command. He launched an offensive against the Confederate army of General Robert E. Lee, in which he fell prey to a strategic turning movement into his rear areas by Maj. Gen. Stonewall Jackson. At Second Bull Run, he concentrated his attention on attacking Jackson while the other Confederate corps, under Maj. Gen. James Longstreet,
executed a devastating assault into his flank, routing his army. He deflected some of the blame for the defeat by wrongfully accusing Brig. Gen. Fitz John Porter of disobeying his orders. Porter was exonerated in 1879, causing much public embarrassment for Pope.
Following Manassas, Pope was banished far from the Eastern Theater to Minnesota, where he commanded U.S. Forces in theDakota War of 1862. He was appointed to command the Department of the Missouri in 1865 and was a prominent and activist commander during Reconstruction in Atlanta. For the rest of his military career, he fought in the Indian Wars, particularly against the Apache a
nd Sioux.Lincoln wanted all blacks out of the USA and reentered into black Africa or some other place fit for them. Pope was no match for Longstreet .