The Chisholm Trail was a trail used in the late 19th century to drive cattle overland from ranches in Texas to Kansas railheads. The portion of the trail marked by Jesse Chisholm went from his southern trading post near the Red River,

to his northern trading post near Kansas City, Kansas. Texas ranchers using the Chisholm Trail started on that route from either the Rio Grande or San Antonio, Texas, and went to the railhead of the Kansas Pacific Railway in Abilene, Kansas, where the cattle would be sold and shipped
By 1853, Texas cattle were being driven into Missouri, where local farmers began blocking herds and turning them back because the Texas longhorns carried ticks that caused diseases in other types of cattle.
Violence, vigilante groups, and cattle rustling caused further problems for the drivers. By 1859, the driving of cattle was outlawed in many Missouri jurisdictions.
By the end of the Civil War, most cattle were being moved up the western branch of trail at Red River Station in Montague County, Texas.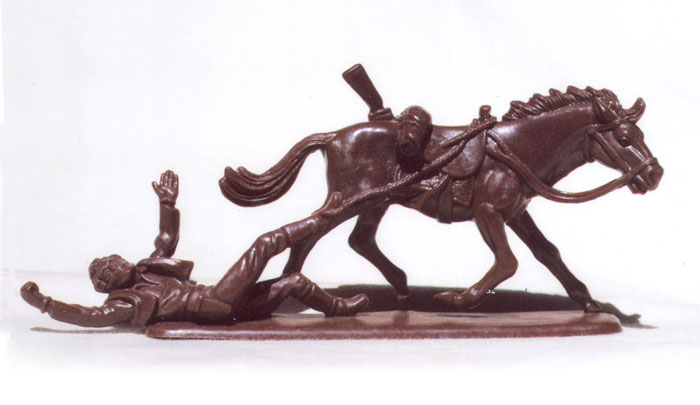 In 1866, cattle in Texas were worth only $4 per head, compared to over $40 per head in the North and East, because lack of market access during the American Civil War had led to increasing number of cattle in Texas.

In 1867, Joseph G. McCoy built stockyards in Abilene, Kansas. He encouraged Texas cattlemen to drive their herds to his stockyards. The stockyards shipped 35,000 head that year and became the largest stockyards west of Kansas City, Kansas.
That same year, O. W. Wheeler answered McCoy's call, and he along with partners used the Chisholm Trail to bring a herd of 2,400 steers from Texas to Abilene. This herd was the first of an estimated 5,000,000 head of Texas cattle to reach Kansas over the Chisholm Trail.
eastward.
The trail is named for Jesse Chismhol who had built several trading posts in what is now western Oklahoma before the American Civil War. He died in 1868, too soon ever to drive cattle on the trail.
Today, some historians consider the Chisholm Trail to have started at the Rio Grande in Texas or at San Antonio, Texas. From 1867 to 1871, the trail ended in Abilene, Kansas. Later, Newton, Kansas, and Wichita, Kansas, each served as the end of the trail. From 1883 to 1887, the end of the trail was Caldwell, Kansas. Ellsworth, Kansas, is also considered a major influence of the trail. In 1931, Geo. W. Saunders, then President of the Old Trail Drivers Assoc. and an authority on Texas livestock History wrote: "The famed Chisholm Trail, about which more has been written than any other Southwestern Trail, cannot be traced in Texas for the reason that it never existed in this State." It was always understood by pioneer cattlemen that they would strike the Chisholm Trail at Red River Station at the mouth of Salt Creek in Montague Co. into the Indian Territory.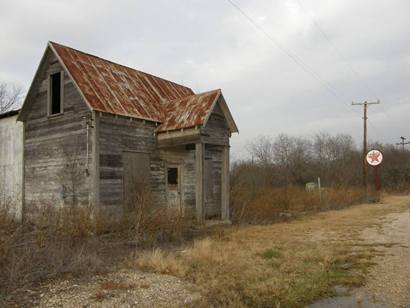 The Chisholm Trail Crossing through modern-day Duncan, Oklahoma's US-81In Texas, there were hundreds of feeder trails heading north to one of the main cattle trails. In the early 1840s, most cattle were driven up the Shawnee Trail.
The Chisholm Trail was previously used by Indian hunting and raiding parties; The trail crossed into Indian Territory (present-day west-central Oklahoma) near Red River Station (in present-day Montague County, Texas) and entered Kansas near Caldwell. Through Oklahoma, the Chisholm Trail generally followed the route of US Highway 81 through present-day towns of El Reno,
Duncan,
and Enid.
On the long trips — up to two months — the cattlemen would face many difficulties. They had to cross major rivers like the Arkansas and the Red, and innumerable smaller creeks, plus the topographic challenges of canyons, badlands, and low mountain ranges.
The weather was less than ideal. In addition to these natural dangers, there were rustlers and occasional conflicts with Native Americans if a drover, a trail boss, failed to pay a toll of 10 cents a head to local tribes for the right to cross Indian lands (Oklahoma at that time was

Indian Territory, governed from Fort Smith, Arkansas). Finally, there was the natural contrariness of the half-wild Texas longhorn cattle themselves, which were prone to stampede with little provocation.At least two movies have depicted a fictional account of the first drive along the Chisholm Trail: The Texans (1938), directed by James Hogan and starring Randolph Scott and Joan Bennett, and Red River (1948), directed by Howard Hawks and starring John Wayne and Montgomery Clift. Perhaps not coincidentally, Walter Brennan co-stars in both films in his usual grizzled-old-coot role.

The trail is the subject of a country song, Old Chisholm Trail. Among those who have covered the song are Gene Autry, Girls of the Golden West, Woody Guthrie, Michael Martin Murphey, Tex Ritter, Roy Rogers, and Lead Belly (Huddie Ledbetter), although his version was titled "When I Was A Cowboy".
Many schools have been named after the Chisholm Trail, including Chisholm Trail Junior High School[3] in Olathe, Kansas; Chisholm Trail Elementary School which is part of the Wichita USD 259 school system and
located within the city limits of Park City, Kansas; Chisholm Middle School in Newton, Kansas; and an intermediate school in Keller, Texas, named "Chisholm Trail Intermediate School".
Chisholm Trail Heritage Center, located in Duncan, Oklahoma, is an interactive museum dedicated to the history of the Chisholm Trail. It also has a large monument depicting a scene from the Chisholm Trail cattle drive, as well as a trail walkway.
On the second weekend of June, Lockhart in Caldwell County holds a four-day festival to celebrate its place on the Chisholm Trail. Newton, Kansas also holds a three to four day Chisholm Trail Festival, combining it with the annual Fourth of July celebration.
On September 26, 2009, a historical marker on the Chisholm Trail was unveiled at the site of the Red River Station in Montague County. The 5.5-foot concrete marker is the last of twelve erected in Montague County as part of a joint project of the Texas Lakes and Trails and the Montague County Historical Commission to outline the Chisholm Trail (as said in Wichita Falls Times Record News).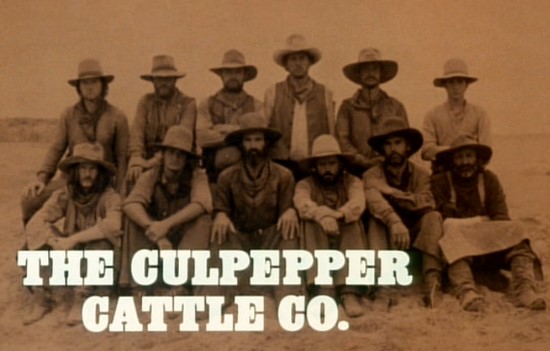 Cowboy Beans
Ingredients:
2 cups dried red beans
2 cups dried pinto beans
1 large yellow onion, chopped
3 tablespoons garlic, chopped
3 green chile peppers, grilled and diced
3 vine-ripened tomatoes, grilled, seeded and chopped
1 tablespoon vegetable oil
7 quarts water or vegetable stock
1 smoked ham hock
1 teaspoon toasted coriander seed
1 bay leaf
2 whole dried red chile peppers
Salt and pepper, to taste
Cowboys sitting down for supper.
This image available for photographic prints HERE!
Soak beans overnight in water to cover, changing water once; drain.
When beans are ready, saute onion, garlic, green chiles and tomatoes in oil in a large soup pot or Dutch oven over medium-high heat. Add water or stock and ham hock; bring to a boil. Add beans, coriander seed, bay leaf and dried chiles. Continue to boil for 30 minutes, then lower heat, cover and simmer for three to four hours, until beans are tender. Season with salt and pepper to taste. Makes 16 servings.
Cowboy Fry Bread
Ingredients:
1 cup milk
1 package active dry yeast
2 Tb sugar
2 eggs, beaten
1 tsp salt
3 1/2-4 cups all purpose flour, sifted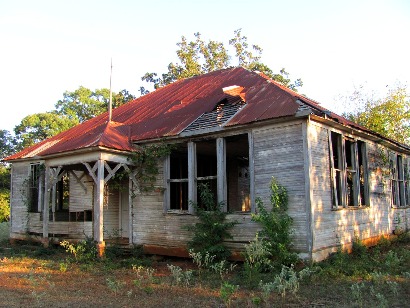 Vegetable oil
Heat oil to 350 degrees in a deep fryer, large pot or skillet. Fry dough discs one or two at a time for three to five minutes, depending on size, turning once. Makes about 12 servings