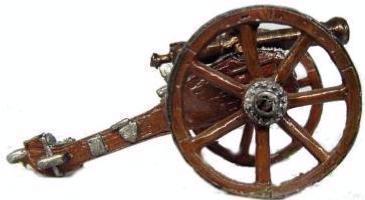 The operations of my division during the engagement pleased. General Gilbert very much, and he informed me that he would relax a rigidly enforced order which General Buell had issued some days before, sufficiently to permit my trains to come to the front and supply my almost starving troops with rations. The order in question was one of those issued, doubtless with a good intent, to secure generally the safety of our trains, but General Gilbert was not elastic, and on the march he had construed the order so illiberally that it was next to (ALL SOLDIERS ARE LIL'Army)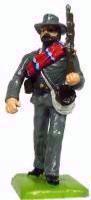 impossible to s
upply the men wi
th food, and they were particularly short in this respect on the eve of the battle. I had then endeavored to persuade him to modify his iron-clad interpretation of the order, but without effect, and the only wagons we could bring up from the general parks in rear were ambulances and those containing ammunition. So to gain access to our trains was a great boon, and at that moment a more welcome result than would have been a complete victory minus this concession.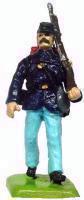 When the battle ceased General Gilbert asked me to join him at Buell's headquarters, which were a considerable distance to the rear, so after making some dispositions for the evening I proceeded there as requested. I arrived just as Buell was about to sit down to his supper, and noticing that he was lame, then learned that he had been severely injured by a recent fall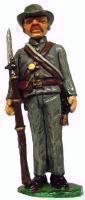 fro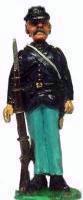 m his horse. He kind
ly invited me to join him at the table, an invitation which I accepted with alacrity, enjoying the meal with a relish known only to a very-hungry man, for I had eaten nothing since morning. Of course the events of the day were the chief topic of discussion—as they were during my stay at headquarters—but the conversation indicated that what had occurred was not fully realized, and I returned to my troops impressed with the belief that General Buell and his staff-officers were unconscious of the magnitude of the battle that had just been fought.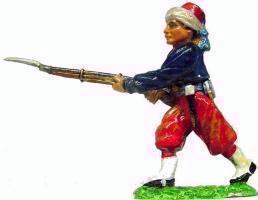 It had been expected by Buell that he would fight the enemy on the 9th of October, but the Confederates disposed of that proposition by attacking us on the 8th, thus disarranging a tactical conception which, with our superior numbers

, would doubtless have proved successful had it not been anticipated by an enterprising foe. During the battle on the 8th the Second Corps, under General Thomas L. Crittenden,
accompanied by General George H. Thomas, lay idle the whole day for want of orders, although it was near enough to the field to take an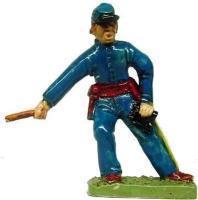 active part in the fight; an
d, moreover, a large part of Gilbert's corps was unengaged during the pressure on McCook. Had these troops been put in on the enemy's left at any time after he assaulted McCook, success would have been beyond question; but there was no one on the ground authorized to take advantage of the situation, and the battle of Perryville remains in history an example of lost opportunities. This was due in some measure probably to General Buell's accident, but is mainly attributable to the fact that he did not clearly apprehend Bragg's aim, which was to gain time to withdraw behind Dicks River
all the troops he had in Kentucky, for the Confederate general had no idea of risking the fate of his army on one general battle at a place or on a day to be chosen by the Union commander.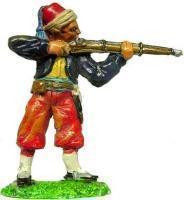 Considering the number of troops actually engaged, the losses to Buell were severe, amounting to something over five thousand in killed, wounded, and missing. Among the killed were two brigade commanders of much promise—General James S. Jackson
and General William R. Terrill.
McCook's corps lost twelve guns, some of which were recovered next day. The enemy's loss in killed and wounded we never learned, but it must have equalled ours; and about four thousand prisoners, consisting principally of sick and wounded, fell into our hands. In the first report of the battle sent North to the newspapers I was reported among the killed; but I was pleased to notice, when the papers reached us a few days later, that the error had been corrected before my obituary could be written.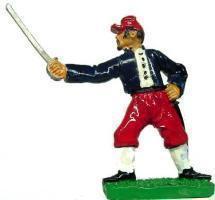 The enemy retired from our front the night of the 8th, falling back on Harrodsburg
to form a junction with Kirby Smith, and by taking this line of retreat opened to us the road to Danville
and the chance for a direct march against his depot of supplies at Bryantsville. We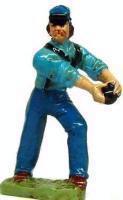 did not take advan
tage of this opening, however, and late in the day—on the 9th—my division marched in pursuit, in the direction of Harrodsburg, which was the apex of a triangle having for its base a line from Perryville to Danville.
The pursuit was slow, very slow, consuming the evening of the 9th and all of the 10th and 11th. By cutting across the triangle spoken of above, just south of the apex, I struck the
Harrodsburg-Danville road, near Cave Springs, joining there Gilbert's left division, which had preceded me and marched through Harrodsburg. Here we again rested until the intention of the enemy could be divined, and we could learn on which side of Dick's River he would give us battle. A reconnoissance sent toward the Dickville crossing developed to a certainty that we should not have another engagement, however; for it disclosed the fact that Bragg's army had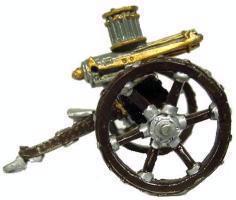 disappeared toward Camp Dick Robinson, leaving only a small rear-guard at Danville, which in turn quickly fled in the direction of Lancaster, after exchanging a few shots with Hescock's battery.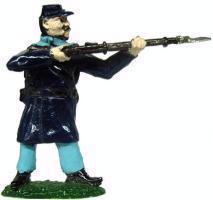 While this parting salute of deadly projectiles was going on, a little, daughter of Colonel William J. Landram, whose home was in Danville, came running out from his house and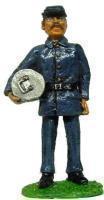 planted a small nation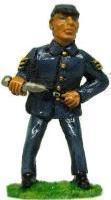 al flag on one of Hescock's guns. The patriotic act was so brave and touching that it thrilled all who witnessed the scene; and until the close of the war,
when peace separated the surviving officers and men of the battery, that little flag was protected and cherished as a memento of the Perryville campaign.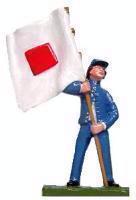 Pursuit of the enemy was not continued in force beyond Crab Orchard, but some portions of the army kept at Bragg's heels until he crossed the Cumberland River, a part of his troops retiring to Tennessee by way of Cumberland Gap,
but the major portion through Somerset. As the retreat of Bragg transferred the theatre of operations back to Tennessee, orders were now issued for a concentration of Buell's army at Bowling Green,
with a view to marching it to Nashville, and my division moved to that point without noteworthy incident. I reached Bowling Green with a force much reduced by the losses sustained in the battle of Perryville and by sickness. I had started from Louisville on October 1 with twelve regiments of infantry—four old and eight new ones—and two batteries, but many poor fellows, overcome by fatigue, and diseases induced by the heat, dust, and drought of the season, had to be left at roadside hospitals. This was particularly the case with the new regiments, the men of which, much depressed by homesickness, and not yet inured to campaigning, fell easy victims to the hardships of war.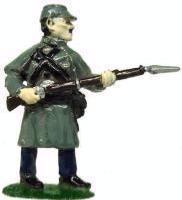 At Bowling Green General Buell was relieved, General W. S. Rosecrans
succeeding him. The army as a whole did not manifest much regret at the change of commanders, for the campaign from Louisville on was looked upon generally as a lamentable failure, yet there were many who still had the utmost confidence in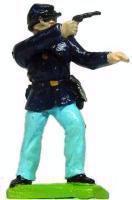 General Buell, and they repelled with some asperity the reflections cast upon him by his critics. These admirers held him blameless throughout for the blunders of the campaign, but the greater number laid every error at his door, and even went to the absurdity of challenging his loyalty in a mild way, but they particularly charged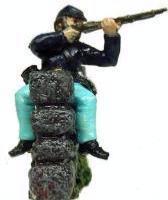 incompetency at Perryville, where McCook's corps was so badly crippled while nearly 30,000 Union troops were idle on the field, or within striking distance. With these it was no use to argue that Buell's accident stood in the way of his activity, nor that he did not know that the action had assumed the proportions of a battle. The physical disability was denied or contested, but even granting this, his detractors claimed that it did not excuse his ignorance of the true condition of the fight, and finally worsted his champions by pointing out that Bragg's retreat by way of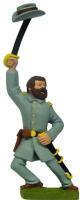 Harrodsbu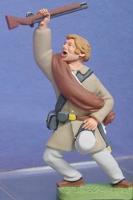 rg beyond Dick's River so jeopardized the Confederate army, that had a skillful and energetic advance of the Union troops been made, instead of wasting precious time in slow and unnecessary tactical manoeuvres, the enemy could have been destroyed before he could quit the State of Kentucky.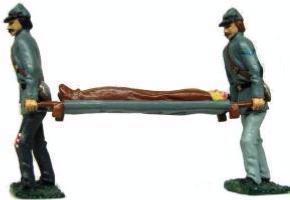 My division had moved from Crab Orchard to Bowling Green
by easy marches, reaching this place November 1. General Rosecrans assumed command of the department October 30, at Louisville, and joined the army November 2. There had been much pressure brought to bear on General Buell to induce him to take measures looking to the occupancy of East Tennessee, and the clamor to this end from Washington still continued; but now that Bragg was south of the Cumberland River,
in a position threatening Nashville, which was garrisoned by but a small force, it was apparent to every one at all conversant with the situation that a battle would have to be fought somewhere in Middle Tennessee. So, notwithstanding the pressure from Washington, the army was soon put in motion for Nashville, and when we arrived there my division went into
camp north of the river, on a plateau just outside the little town of Edgefield, until the movements of the enemy should be further developed.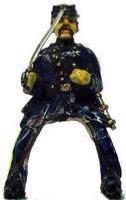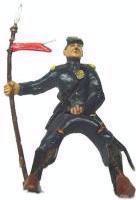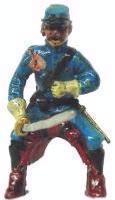 While in this camp, on the plantation of Mr. Hobson, there came to my headquarters one morning an East Tennessean named James Card,
who offered to the Union cause his services in any capacity in which they might be made useful. This offer, and the relation of his personal history, were given with such sincerity of speech and manner that in a short time I became convinced of his honesty of purpose. He was a small, active, busy man, with a determined way about him, and his countenance indicated great intelligence. He gave minute information that was of inestimable value to me regarding East and Middle Tennessee and northern Georgia, for, with a view to the army's future movements, I was then making a study of the topography of this region, and posting myself as to Middle Tennessee, for all knew this would be the scene of active operations whenever the campaign was resumed. This man, like most of the East Tennesseans whom I had met, was intensely loyal and patriotic, and the interview led in a few days to his employment as a scout and guide, and subsequently to the engaging in the same capacity of two of his brothers, who were good men; but not quite as active nor so intelligent as he was. Card had been a colporter, having pedled books, especially religious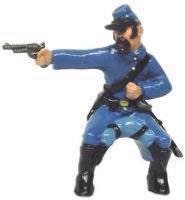 tracts, over all Middle and East Tennessee and Georgia, assisted by his brothers at times, and was therefore thoroughly familiar with these regions, their roads and inhabitants. He also preached to country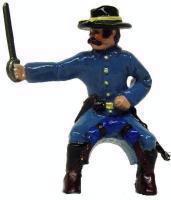 congregations occasionally, when ministers were scarce, and I have no doubt often performed the functions of family physician in the mountain district. Thus his opportunities were great; and the loyal people in every section of the country being well known to him and his brothers, the three began, at this time, a system of scouting and investigation which bore its first-fruits in specifically locating the different divisions of Bragg's army, with statements of their strength and condition, and all with so much accuracy that I thereafter felt reasonably sure that I could at all times procure such knowledge of the enemy's operations as would well equip me for any contingency that might arise.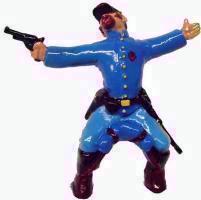 By the middle of November the enemy, having assembled his forces in Middle Tennessee, showed considerable boldness, and it became necessary to rearrange the Union lines; so my troops were moved to the south side of the river, out on the Murfreesboro' pike,
to Mill Creek, distant from Nashville about seven miles. While we were in camp on Mill Creek the army was reorganized, and General Joshua W. Sill, at his own request, was assigned to my division, and took command of Colonel Nicholas Greusel's brigade. My division became at the same time the Third Division, Right Wing, Fourteenth Army Corps, its three brigades of four regiments each being respectively commanded by General Sill, Colonel Frederick Schaefer and Colonel Dan McCook; but a few days later Colonel George W. Roberts's brigade, from the garrison at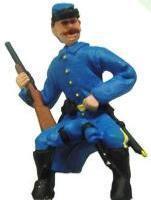 Nashville, was substituted for McCook's.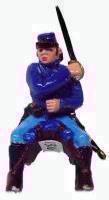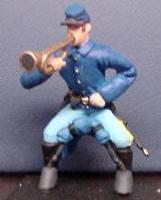 General Sill was a classmate of mine at the Military Academy, having graduated in 1853. On graduating he was appointed to the Ordnance Corps, and served in that department at various arsenals and ordnance depots throughout the country till early in 1861, when he resigned to accept a professorship of mathematics and civil engineering at the Brooklyn Collegiate and Polytechnic Institute. At the breaking out of the war he immediately tendered his services to the Government, and soon rose to the colonelcy of the Thirty-Third Ohio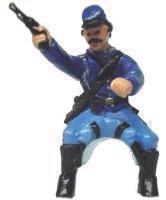 Volunteers, and afterward to the rank of brigadier-general. I knew him well, and was glad that he came to my division, though I was very loth to relieve Colonel Greusel, of the Thirty-Sixth Illinois,
who had already indicated much military skill and bravery, and at the battle of Perryville had handled his men with the experience of a veteran. Sill's modesty and courage were exceeded only by a capacity that had already been demonstrated in many practical ways, and his untimely death, almost within a month of his joining me, abruptly closed a career which, had it been prolonged a little more, not only would have shed additional lustre on his name, but would have been of marked benefit to his country.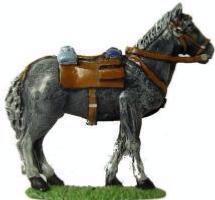 Colonel Schaefer, of the Second Missouri Infantry, had been absent on sick-leave during the Kentucky campaign, but about this date he returned to duty, and by seniority fell in command of the second brigade. He was of German birth, having come from Baden, where, prior to 1848, he had been a non-commissioned officer in the service of his State. He took part as an insurgent in the so-called revolution which occurred at Baden in that year, and,
compelled to emigrate on the suppression of the insurrection, made his way to this country and settled in St. Louis. Here the breaking out of the war found him, and through the personal interest which General Sigel took in him he was commissioned a colonel of volunteers. He had had a pretty fair education, a taste for the military profession, and was of tall and slender build, all of which gave him a student-like appearance. He was extremely excitable and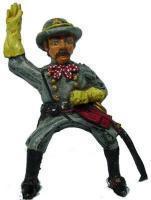 nervous when anticipating a crisis, but always calmed down to cool deliberation when the critical moment came. With such a man I could not be less than well satisfied, although the officer whom he replaced—Colonel Laiboldt—had performed efficient service and shown much capacity in the recent campaign.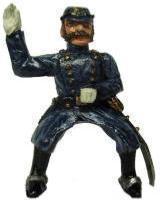 Colonel G. W. Roberts, of the Forty-Second Illinois Infantry,
also came to me in the reorganization. He was an ideal soldier both in mind and body. He was young, tall, handsome, brave, and dashing, and possessed a balance-wheel of such good judgment that in his sphere of action no occasion could arise from which he would not reap the best results. But he too was destined to lay, down his life within a few days, and on the same fatal field. His brigade had been performing garrison duty in Nashville during the siege of that city while Buell's army was in Kentucky, but disliking the prospect of inactivity pending the operations opening before us, Roberts had requested and obtained a transfer to the army in the field. His brigade relieved Colonel Dan McCook's, the latter reluctantly joining the garrison at Nashville, every one in it disappointed and disgusted that the circumstances existing at this time should necessitate their relegation to the harassing and tantalizing duty of protecting our depots and line of supply.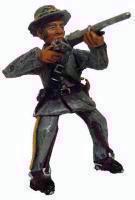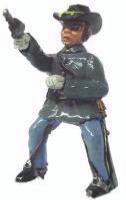 I was fortunate in having such brigade commanders, and no less favored in the regimental and battery commanders. They all were not only patriots, but soldiers, and knowing that discipline must be one of the most potent factors in bringing to a successful termination, the mighty contest in which our nation was struggling for existence, they studied and practiced its methods ceaselessly, inspiring with the same spirit that pervaded themselves the loyal hearts of their subordinate officers and men. All worked unremittingly in the camp at Mill Creek
in preparing for the storm, which now plainly indicated its speedy coming. Drills, parades, scouts, foraging expeditions, picket and guard duty, made up the course in this school of instruction, supplemented by frequent changes in the locations of the different brigades, so that the division could have opportunity to learn to break camp quickly and to move out promptly on the march. Foraging expeditions were particularly beneficial in this respect, and when sent out, though absent sometimes for days, the men went without tents or knapsacks, equipped with only one blanket and their arms, ammunition, and rations, to teach them to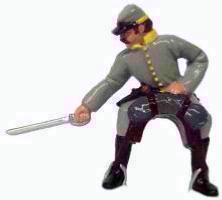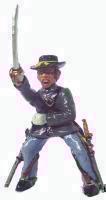 shift for themselves with slender mea
ns in the event of necessity. The number of regimental and headquarters wagons was cut down to the lowest possible figure, and everything made compact by turning into the supply and ammunition trains of the division all surplus transportation, and restricting the personal baggage of officers to the fewest effects possible.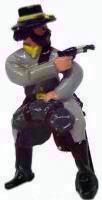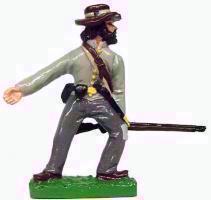 My own staff also was somewhat reorganized and increased at Mill Creek, and though it had been perfectly satisfactory before, yet, on account of the changes of troops that had occurred in the command, I found it necessary to replace valuable officers in some instances, and secure additional ones in others. The gathering of information about the enemy was also industriously pursued, and Card and his brothers were used constantly on expeditions within the Confederate lines, frequently visiting murfressboro (below)
Sparta and
',
, Shelbyville,
and other points. What they learned was reported to army headquarters, often orally through me or personally communicated by Card himself, but much was forwarded in official letters, beginning with November 24, when I transmitted accurate information of the concentration of Bragg's main force at Tullahoma. Indeed, Card kept me so well posted as to every movement of the enemy, not only with reference to the troops in my immediate front, but also throughout his whole army, that General Rosecrans placed the most unreserved reliance on all his statements, and many times used them to check and correct the reports brought in by his own scouts.
Slight skirmishes took place frequently during this period, and now and then heavy demonstrations were made in the neighborhood of Nolensville
by reconnoitring parties from both armies, but none of these ever grew into a battle. These affairs sprung from the desire of each side to feel his antagonist, and had little result beyond emphasizing the fact that behind each line of pickets lay a massed and powerful army busily preparing for the inevitable conflict and eager for its opening. So it wore on till the evening of December 25, 1862; then came the order to move forward.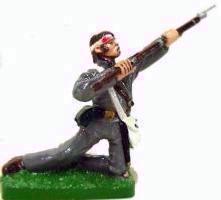 General Rosecrans, in the reorganization of the army, had assigned Major-General A. McD. McCook to command the right wing, Major-General George H. Thomas
the centre, and Major-General T. L. Crittenden the left wing. McCook's wing was made up of three divisions, commanded in order of rank by Brigadier-General Jeff. C. Davis;
Brigadier-General R. W. Johnson, and Brigadier-General P. H. Sheridan. Although the corps nomenclature established by General Buell was dropped, the grand divisions into which he had organized the army at Louisville were maintained, and, in fact, the conditions established then remained practically unaltered, with the exception of the interchange of some brigades, the transfer of a few general officers from one wing or division to another, and the substitution of General Thomas for Gilbert as a corps commander. The army was thus compact and cohesive, undisturbed by discord and unembarrassed by jealousies of any moment; and it may be said that under a commander who, we believed, had the energy and skill necessary to direct us to success, a national confidence in our invincibility made us all keen for a test of strength with the Confederates. We had not long to wait.
Early on the morning of December 26, 1862, in a heavy rain, the army marched, the movement being directed on Murfreesboro',
where the enemy had made some preparation to go into winter-quarters, and to hold which town it was hoped he would accept battle. General Thomas moved by the Franklin and Wilson pikes, General Crittenden by the Murfreesboro' pike, through Lavergne,
and General McCook by the Nolensville pike—Davis's division in advance.
As McCook's command neared Nolensville, I received a message from Davis informing me that the Confederates were in considerable force, posted on a range of hills in his front, and requesting me to support him in an attack he was about to make. When the head of my column arrived at Nolensville I began massing my troops on the right of the road, and by the time this formation was nearly completed Davis advanced, but not meeting with sufficient resistance to demand active assistance from me, he with his own command carried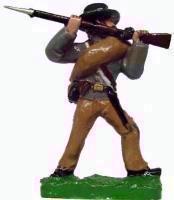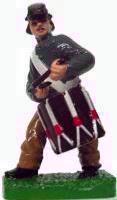 the hills, capturing one p
iece of artillery. This position of the Confederates was a strong one, defending Knob's Gap, through which the Nolensville and Triune pike passed. On the 27th Johnson's division,
followed by mine, advanced to Triune, and engaged in a severe skirmish near that place, but my troops were not called into action, the stand made by the enemy being only for the purpose of gaining time to draw in his outlying troops, which done, he retired toward Murfreesboro'. I remained inactive at Triune during the 28th, but early on the 29th moved out by the Bole Jack road to the support of, Davis in his advance to Stewart's Creek,
s,
and encamped at Wilkinson's crossroad from which point to Murfreesboro', distant about six miles, there was a good turnpike.
The enemy had sullenly resisted the progress of Crittenden and McCook throughout the preceding three days, and as it was thought probable that he might offer battle at Stewart's Creek, Thomas, in pursuance of his original instructions looking to just such a contingency, had now fallen into the centre by way of the Nolensville crossroads.
On the morning of the 30th I had the advance of McCook's corps on the Wilkinson pike, Roberts's brigade leading. At first only slight skirmishing took place, but when we came within about three miles of Murfreesboro' the resistance of the enemy's pickets grew serious, and a little further on so strong that I had to put in two regiments to push them back. I succeeded in driving them about half a mile, when I was directed by McCook to form line of battle and place my artillery in position so that I could act in concert with Davis's division, which he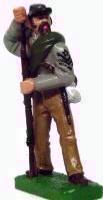 wished t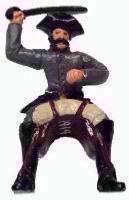 o post on my right in the general line he desired to take up. In obedience to these directions I deployed on the right of, and oblique to the Wilkinson pike, with a front of four regiments, a second line of four regiments within short supporting distance, and a reserve of one brigade in column of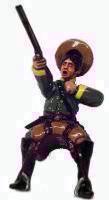 regiments to th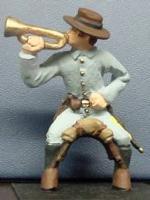 e rear of my centre. All this time the enemy kept up a heavy artillery and musketry fire on my skirmishers, he occupying, with his sharpshooters, beyond some open fields, a heavy belt of timber to my front and right, where it was intended the left of Davis should finally rest. To gain this point Davis was ordered to swing his division into it in conjunction with a wheeling movement of my right brigade, until our continuous line should face nearly due east. This would give us
possession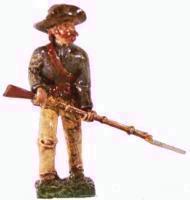 of the timber referred to, and not only rid us of the annoying fire from the skirmishers screened by it, but also place us close in to what was now developing as Bragg's line of battle. The movement was begun about half-past 2, and was successfully executed, after a stubborn resistance. In this preliminary affair the enemy had put in one battery of artillery, which was silenced in a little while, however, by Bush's and Hescock's guns. By sundown I had taken up my prescribed position, facing almost east, my left (Roberts's brigade) resting on the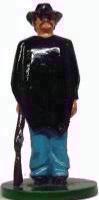 Wilkinson pike, the r
ight (Sill's brigade) in the timber we had just gained, and the reserve brigade (Schaefer's) to the rear of my centre, on some rising ground in the edge of a strip of woods behind Houghtaling's and Hescock's batteries. Davis's division was placed in position on my right, his troops thrown somewhat to the rear, so that his line formed nearly a right angle with mine, while Johnson's division formed in a very exposed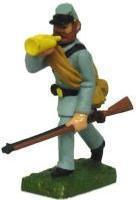 position on the right of Davis, prolonging the general line just across the Franklin pike.
The centre, under Thomas, had already formed to my left, the right of Negley's division joining my left in a cedar thicket near the Wilkinson pike, while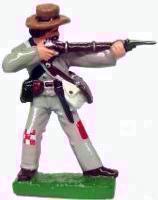 Crittenden's corps was posted on the left of Thomas, his left resting on Stone River, at a point about two miles and a half from Murfreesboro'.
The precision that had characterized every manoeuvre of the past three days, and the exactness with which each corps and division fell into its allotted place on the evening of the 30th, indicated that at the outset of the campaign a well-digested plan of operations had been prepared for us; and although the scheme of the expected battle was not known to

subordinates of my grade, yet all the movements up to this time had been so successfully and accurately made as to give much promise for the morrow, and when night fell there was general anticipation of the best results to the Union army.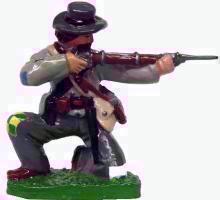 The enemy under Bragg lay between us and stone River in order of battle, his general line conforming to the course of that stream. In my immediate front he appeared to be established in strong force in a dense cedar wood, just beyond an open valley, which varied from two hundred to four hundred yards in width, the cedars extending the entire length of the valley. From the events of the day and evening of the 30th, it was apparent that the two armies were in close proximity, and orders received during the night revealed the fact that Rosecrans intended to attack by throwing his left on the enemy's right, with the expectation of driving it in toward Murfreesboro', so that the right of Crittenden's corps could attack Bragg's centre in reverse, while Thomas supported Crittenden by a simultaneous front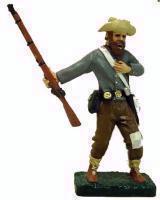 assault; and from the movemen
ts of the enemy at daylight next morning, it was plainly indicated that Bragg had planned to swing his left on our right by an exactly similar manoeuvre, get possession of the railroad and the Nashville pike, and if possible cut us off from our base at Nashville. The conceptions in the minds of the two generals were almost identical; but Bragg took the initiative, beginning his movement about an hour earlier than the time set by Rosecrans, which gained him an immense advantage in execution in the earlier stages of the action.
During the evening, feeling keenly all the solicitude which attends one in anticipation of a battle, I examined my position with great care, inspecting its whole length several times to remedy any defects that might exist, and to let the men see that I was alive to their interests and advantages. After dark, I went back to the rear of my reserve brigade, and establishing my headquarters behind the trunk of a large fallen tree, which would shelter me somewhat from the cold December wind, lay down beside a small camp-fire to get some rest.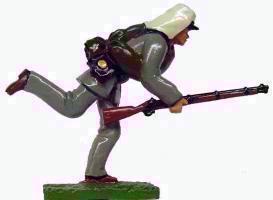 At 2 o'clock on the morning of the 31st General Sill came back to me to report that on his front a continuous movement of infantry and artillery had been going on all night within the Confederate lines, and that he was convinced that Bragg was massing on our right with the purpose of making an attack from that direction early in the morning. After discussing for a few minutes the probabilities of such a course on the part of the enemy, I thought McCook should be made acquainted with what was going on, so Sill and I went back to see him at his headquarters, not far from the Griscom House, where we found him sleeping on some straw in the angle of a worm-fence. I waked him up and communicated the intelligence, and our consequent impressions. He talked the matter over with us for some little time, but in view of the offensive-defensive part he was to play in the coming battle, did not seem to think that there was a necessity for any further dispositions than had already been taken. He said that he thought Johnson's division would be able to take care of the right, and seemed confident
that the early assault which was to be made from Rosecrans's left would anticipate and check the designs which we presaged. We two then returned to my little camp-fire behind the log, and as we continued talking of what might be expected from the indications on the right, and Sill
becoming more an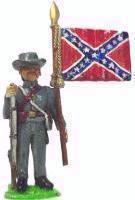 xious, I directed two regiments from the reserve to report to him, that they might be placed within very short supporting distance of his line. He then rejoined his brigade, better satisfied, but still adhering to the belief he had expressed when first making his report.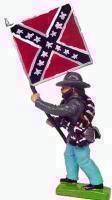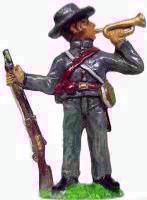 Long before dawn my division breakfasted, and was assembled under arms, the infantry in line, the cannoneers at their pieces, but while we were thus preparing, all the recent signs of activity in the enemy's camp were hushed, a death-like stillness prevailing in the cedars to our front. Shortly after daylight General Hardee opened the engagement, just as Sill had predicted, by a fierce attack on Johnson's division, the extreme right of the Union line. Immediate success attending this assault, Hardee extended the attack gradually along in front of Davis, hip movement taking the form of a wheel to the right, the pivot being nearly opposite the left of my division. Johnson's division soon gave way, and two of Davis's brigades were forced to fall back with it, though stubbornly resisting the determined and sweeping onset.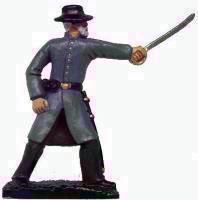 In the meantime the enemy had also attacked me, advancing across an old cotton-field in Sill's front in heavy masses, which were furiously opened upon by Bush's battery from Sill's line, and by Hescock's and Houghtaling's batteries, which had an oblique fire on the field from a commanding position in rear of my centre.
The effect of this fire on the advancing column was terrible, but it continued on till it reached the edge of the timber where Sill's right lay, when my infantry opened at a range of not over fifty yards. For a short time the Confederates withstood the fire, but then wavered, broke, and fell back toward their original line. As they retired, Sill's brigade followed in a spirited charge, driving them back across the open ground and behind their intrenchments. In this charge the gallant Sill was killed; a rifle ball passing through his upper lip and penetrating the brain. Although this was a heavy loss, yet the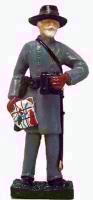 enemy's discomfit

ure was such as to give us an hour's time, and as Colonel Greusel, Thirty-sixth Illinois, succeeded to Sill's command, I directed him, as he took charge, to recall the brigade to its original position, for the turning-column on my extreme right was now assuming the most menacing attitude, and it was urgently necessary to prepare for it.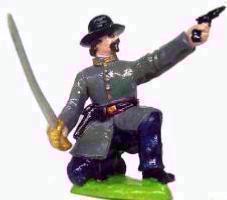 When that portion of the enemy driven back by Sill recovered from its repulse it again advanced to the attack, this time directing its efforts chiefly upon my extreme right, and the front of Woodruff's brigade of Davis's division, which brigade still held on in its first position. In front of my centre the Confederates were again driven back, but as the assault on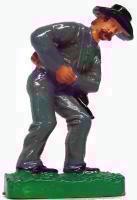 Woodruff was in conjunction with an advance of the column that had forced Johnson to retire, Woodruff was compelled unfortunately to give way, and two regiments on the right of my line went with him, till they rallied on the two reserve regiments which, in anticipation of the enemy's initiatory attack I had sent to Sill's rear before daylight.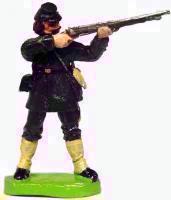 Both Johnson's and Davis's divisions were now practically gone from our line, having retired with a loss of all formation, and they were being closely pursued by the enemy, whose columns were following the arc of a circle that would ultimately carry him in on my rear. In consequence of the fact that this state of things would soon subject me to a fire in reverse, I hastily withdrew Sill's brigade and the reserve regiments supporting it, and ordered Roberts's brigade, which at the close of the enemy's second repulse had changed front toward the south and formed in column of regiments, to cover the withdrawal by a charge on the Confederates as they came into the timber where my right had originally rested. Roberts made the charge at the proper time, and was successful in checking the enemy's advance, thus giving us a breathing-spell, during which I was able to take up a new position with Schaefer's and Sill's brigades on the commanding ground to the rear, where Hescock's and Houghtaling's batteries had been posted all the morning.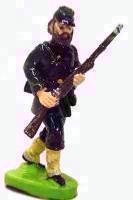 The general course of this new position was at right angles with my original line, and it took the shape of an obtuse angle, with my three batteries at the apex. Davis, and Carlin of his division, endeavored to rally their men here on my right, but their efforts were practically unavailing,—though the calm and cool appearance of Carlin, who at the time was smoking a stumpy pipe, had some effect, and was in strong contrast to the excited manner of Davis, who seemed overpowered by the disaster that had befallen his command. But few could be rallied,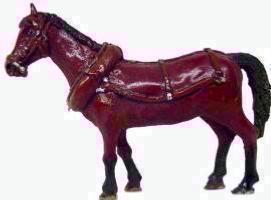 however, as the men were badly demoralized, and most of them fell back beyond the Wilkinson pike, where they reorganized behind the troops of General Thomas.
At this juncture the enemy's turning-column began advancing again in concert with Cheatham's division, and as the extreme left of the Confederates was directed on Griscom's house, and their right on the Blanton house, my new position was in danger of envelopment. No hope of stemming the tide at this point seemed probable, but to gain time I retained my ground as long as possible, and until, under directions from General McCook, I moved to the front from my left flank and attached myself to the right of Negley's division, which up to this hour had been left almost undisturbed by the enemy in the line it had taken up the night before. Under a heavy fire we succeeded in this manoeuvre, Schaefer's brigade marching first, then the batteries, and Roberts's and Sill's brigades following. When my division arrived on this new ground, I posted Roberts on Negley's right, with Hescock's and Bush's guns, the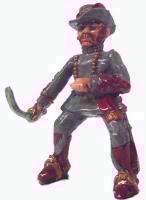 brigade and guns occupying a low rocky ridge of limestone, which faced them toward Murfreesboro', nearly south. The rest of my division was aligned facing west, along the edge of a cedar thicket, the rear rank backed up on the right flank of Roberts, with Houghtaling's battery in the angle. This presented Sill's and Schaefer's brigades in an almost opposite direction to the line we had so confidently taken up the night before, and covered Negley's rear. The enemy, in the meantime, had continued his wheeling movement till he occupied the ground that my batteries and reserve brigade had held in the morning, and I had now so changed my position that the left brigade of my division approached his intrenchments in front of Stone River, while Sill's and Schaeffer's brigades, by facing nearly west, confronted the successful troops that had smashed in our extreme right.
I had hardly got straightened out in this last place when I was attacked by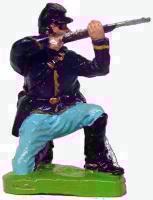 Cheatham's'division, which, notwithstanding the staggering blows it had previously received from Sill and Roberts, now again moved forward in conjunction with the wheeling movement under the immediate command of Hardee. One of the most sanguinary contests of the day now took place.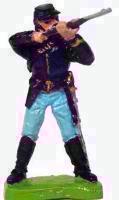 In fulfillment of Bragg's original design no doubt, Cheatham's division attacked on my left, while heavy masses under Hardee, covered by batteries posted on the high ground formerly occupied by my guns, assaulted my right, the whole force advancing simultaneously. At the same time the enemy opened an artillery fire from his intrenchments in front of Murfreesboro', and it seemed that he was

present on every side. My position was strong, however, located in the edge of a dense cedar thicket and commanding a slight depression of open ground that lay in my front. My men were in good spirits too, notwithstanding they had been a good deal hustled around since daylight, with losses that had told considerably on their numbers. Only a short distance now separated the contending lines, and as the batteries on each side were not much more than two hundred yards apart when the enemy made his assault, the artillery fire was fearful in its effect on the ranks of both contestants, the enemy's heavy masses staggering under the torrent of shell and canister from our batteries, while our lines were thinned by his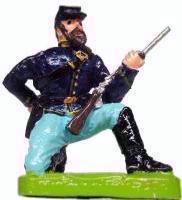 ricochetting projectiles, that rebounded again and again over the thinly covered limestone formation and sped on to the rear of Negley. But all his efforts to dislodge or destroy us were futile, and for the first time since daylight General Hardee was seriously checked in the turning movement he had begun for the purpose of getting possession of the Nashville pike, and though reinforced until two-fifths of Bragg's army was now at his command, yet he met with repulse after repulse, which created great gaps in his lines and taught him that to overwhelm us was hopeless.
As the enemy was recoiling from his first attack, I received a message from Rosecrans telling me that he was making new dispositions, and directing me to hold on where I was until they were completed. From this I judged that the existing conditions of the battle would probably require a sacrifice of my command, so I informed Roberts and Schaefer that we must be prepared to meet the demand on us by withstanding the assault of the enemy, no matter what the outcome. Every energy was therefore bent to the simple holding of our ground, and as ammunition was getting scarce, instructions were given throughout the
command to have it reserve its fire till the most effective moment. In a little while came a second and a third assault, and although they were as daring and furious as the first, yet in each case the Confederates were repulsed, driven back in confusion, but not without deadly loss to us, for the noble Roberts was killed, and Colonel Harrington, of the Twenty-Seventh Illinois, who succeeded to his brigade, was mortally wounded a few minutes later. I had now on the death-roll three brigade commanders, and the loss of subordinate officers and men was appalling, but their sacrifice had accomplished the desired result; they had not fallen in vain. Indeed, the bravery and tenacity of my division gave to Rosecrans the time required to make new dispositions, and exacted from our foes the highest commendations. IWOULD ADVISE ALL THAT lIL'ARMY HAVE SOME NICE STUFF BUT IN MY OPINION ITS BETTER TO CONVERT SOME MODELS, FOR INSTANCE BAYONETS ARE NOT RIGHT AND HEADS ARE SOMETIMES TOO BIG OR DISTORTED BUT WELL WORTH BUYING, CHANGE THE BASES AND RIDERS COULD BE GIVEN PLASTIC HORSES.