He
was born in Upper Montclair, New Jersey, to George and Frances Walter, who named him Sterling Relyea Walter.After his father died, he was adopted at the age of nine by James Hayden and renamed Sterling Walter Hayden. He grew up in coastal towns of New England, and as a child lived in New
Hampshire, Massachusetts, Pennsylvania, Washington, D.C., and Maine, where he attended Wassookeag School in
Dexter, Maine
.
Hayden was a genuine adventurer and man of action, not dissimilar from many of his movie parts. He dropped out of high school at the age of 16 and took a job as mate on a schooner. His first voyage was to Newport Beach,
California from New London, Connecticut.La
ter, he was a fisherman on the Grand Banks of Newfoundland, ran a charter yacht, and served as a fireman on eleven
trips to Cubaaboard a steamer.He skippered a trading schooner in the Caribbean after earning his master's license, and in 1937 he served as mate on a world cruise of the schooner Yankee.After serving as sailor and fireman on larger
vessels
and sailing around the world several times, he was awarded his first command aged 22, skippering a square rigger from Gloucester,
Massachusetts, to Tahiti in 1938.
After two film roles, he left Hollywood and joined the Marines as a private, under the name "John Hamilton" (a pseudonym Hayden only used in the military). While at Parris Island
he was recommended for Officer Candidate School. After graduation, he was commissioned a second lieutenant and was transferred to service as an undercover agent with William J. Donovan's COI office. He remained there after it became the OSS.
As OSS agent John Hamilton, his World War II service included sailing with supplies from Italy to Yugoslav partisans and parachuting into fascist Croatia. Hayden, who also participated in the Naples-Foggia campaign and established air crew rescue teams in enemy-occupied territory, became a first lieutenant on September 13, 1944, and a captain on February 14, 1945. He received the Silver Star (for gallantry in action in the Balkans and Mediterranean; "Lt. Hamilton displayed great courage in making hazardous sea voyages in enemy-infested waters and reconnaissance through enemy-held areas"), a Bronze Arrowhead device for parachuting behind enemy lines, and a commendation from Yugoslavia'sMarshal Tito. He left active duty on December 24, 1945.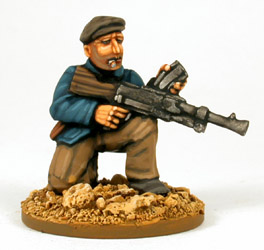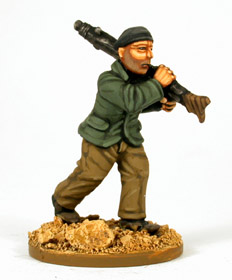 Boltaction Miniatures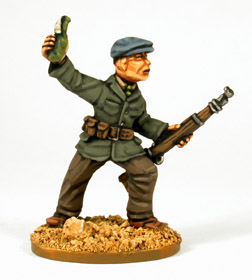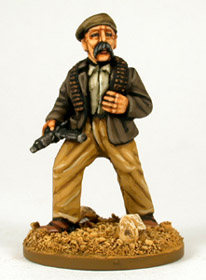 His great admiration for the bravery of the Communist partisans led to a brief membership in the Communist Party. He was apparently active in supporting an effort by the Communist-controlled

motion picture painters' union to absorb other film industry unions.[As the Red Scare deepened in U.S., he cooperated with the House Un-American Activities Committee, confessing his brief Communist ties and "naming names."His wife at that time, Betty de Noon,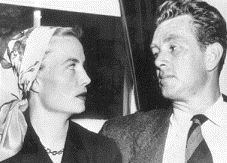 insisted that the 'names' her ex-husband provided were already in the hands of the Committee, which had a copy of the Communist Party's membership list.
In any event, Hayden subsequently repudiated his cooperation with the Committee, stating in his autobiography "I don't think you have the foggiest notion of the contempt I have had for myself since the day I did that thing."
In the early 1960s, Hayden rented one of the pilot houses of the retired ferryboat Berkeley,
docked in Sausalito, California where he resided while writing his autobiographyWanderer, which was first published in 1963. In it, he reminisces about turning points in his life:
"The sun beats down and you pace, you pace and you pace. Your mind flies free and you see yourself as an actor, condemned to a treadmill wherein men and women conspire to breathe life into a screenplay that allegedly depicts life as it was in the old wild West.
You see yourself coming awake any one of a thousand mornings between the spring of 1954, and that of 1958 ‑ alone in a double bed in a big white house deep in suburban Sherman Oaks, not far from Hollywood.
"The windows are open wide, and beyond these is the backyard swimming pool inert and green, within a picket fence. You turn and gaze at a pair of desks not far from the double bed. This is your private office, the place that shelters your fondest hopes: these desks so neat, patiently waiting for the day that never comes, the day you'll sit down at last and begin to write.
"Why did you never write? Why, instead, did you grovel along, through the endless months and years, as a motion‑picture actor? What held you to it, to something you so vehemently professed to despise? Could it be that you secretly liked it—that the big dough and the big house and the high life meant more than the aura you spun for those around you to see?
"'Hayden's wild,' they said. 'He's kind of nuts‑but you've got to hand it to him. He doesn't give a damn about the loot or the stardom or things like that—something to do with his seafaring, or maybe what he went through in the war . . .'"
In the 1970s, after his appearance in The Godfather, he appeared several times on NBC's Tomorrow Show with Tom Snyder, where he talked about his career resurgence and how it had funded his travels and adventures around the world. Hayden bought a canal barge in the Netherlands in 1969, eventually moving it to the heart of Paris and living on it part of the time. He also shared a home in Wilton, Connecticut with his family and had an apartment in Sausalito.
Hayden was an accomplished author and wrote two acclaimed books: an autobiography, Wanderer (1962), and a novel Voyage (1976).
Sterling Hayden died of prostate cancer in Sausalito in 1986, age 70.